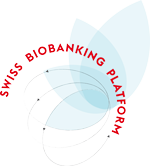 Swiss biobanking platform
is pleased to present
its first conference
Lausanne
February 1st 2018
conference
Presentation
This event will feature international and national experts sharing their vision of the "Biobanking of the future". Three panels of experts will discuss new directions in state-of-the-art biobanking research. To meet current requirements, the scientific community biobanks need to tackle challenges including harmonized procedures, promotion of high quality standards or sustainability, all of them in the framework of their ethical, legal and social dimensions. The conference will thus provide a forum for discussion around topics on next biobanking generation including focus on optimal usage of biological resources as well as present successful human and non-human biobanking research examples.
Program
9:00 / Registration & Coffee
9:30-12:00 / Visions for biobanking
Dr. Aysim Yilmaz
Head of the Biology and Medicine division, SNSF, Bern
Biobanking: a funder's vision
Mr Erik Steinfelder
Director General, BBMRI-ERIC
Biobanking: making new treatments possible?
Dr. Georges Imbert
Basel Human Tissue Network Lead, Novartis Pharma AG, Basel
Basic and translational research with human biological samples in a global pharmaceutical industry: current state and future perspectives
Dr. Rita Lawlor
Biobank Director, ARC-Net University of Verona
Biobanking: A model of Collaboration
Dr. Olivier Menzel
Chairman & founder, BLACKSWAN foundation
How biobanking helps the rare disease community?
Panel discussion moderated by  O. Dessibourg
13:00-14:30 / Biobanking into practice
Dr. Adrian Egli
Head of Clinical Microbiology, Universitätsspital Basel
Biobanks in Microbiology – improving diagnostic and research quality
Prof. Ingrid Walter
Head of VetBioBank, Vienna
Animal samples – a valuable source for research
Prof. Carlo Largiadèr 
Head of the Liquid Biobank, Bern
Liquid Biobank Bern: The Inselspital concept of healthcare – integrated biobanking for precision medicine
Prof.  Hadi Abderrahim
Strategy lead, Healthcare and Biomedical, Qatar Foundation R&D
Qatar Foundation research strategy, personalized healthcare, and disease interception
15:00-17:30 / Challenges for Cutting Edge Research
Prof. Berthold Huppertz
Chair of Cell biology, Histology and Embryology at the Gottfried Schatz Research Center, Graz
Biobanks and sample quality: Where do we go?
Dr. Fay Betsou
Chief Scientific Officer – IBBL – Integrated Biobank of Luxembourg
Biobanks as providers of reference materials
Prof. Nicole Probst-Hensch
Head of Unit Chronic Disease Epidemiology, Swiss TPH Basel
Human Biomonitoring in the Exposome Era
Dr. Roland Charrière
Head of Consumer Protection Directorate, Federal Office of Public Health, Bern
Human Biomonitoring in Switzerland: Pave the way for tomorrow
Panel discussion moderated by  O. Dessibourg
Dr. Karim Boubaker
Cantonal medical Officier of Vaud, Public Health Service
Conclusion
Information
On February 1st 2018.
The event will start at 9:00 with the registration and a welcome coffee and will end around 17:30.
The conference will be held at the SwissTech Convention Center in Lausanne on the EPFL campus.
SwissTech Convention Center
Quartier Nord EPFL
Route Louis-Favre 2
1024 Ecublens
Switzerland
Google map location
Public transportation is probably the best way to get there.
The metro M1 can bring you to the SwissTech Convention Center from the Renens train station or the city center of Lausanne. It comes every 5 minutes and it will take you 10 minutes to get here.
The SwissTech Convention Center is 2 minutes away from the highway exit "Lausanne Sud, UNIL-EPFL". But the parking spaces are limited. We encourage you to use the public transport.
For this first edition, we decided to keep this event free. But we kindly ask you to register, so we can better organize this event.
Registration